Mike Sharp and Darren Sharp
A Brief History of Sharp Shopper
Sharp Shopper was established in 1988 by Dennis and Bonnie Sharp with a single store located in Ephrata, Pennsylvnia. Sharp Shopper now has 6 store locations and a distribution facility located in Pennsylvania along with 3 store locations in Virginia. The ownership was tranferred to Mike Sharp and Darren Sharp in 2022.
Click image below to enlarge: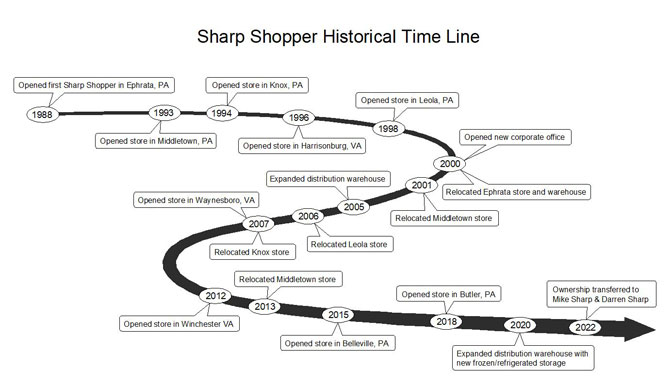 What is Sharp Shopper?
Sharp Shopper features closeouts from the grocery industry. Closeouts become available because of overproduction, packaging changes, seasonal items, warehouse damage, or short date codes (click here for our Product Dating page). Closeout grocery items may be a national or private label brand and are discounted well below regular retail prices. Our inventories constantly change because of the changing availability of products. Customers say this adds a "treasure hunt" dimension to shopping at Sharp Shopper.
In addition to closeouts, Sharp Shopper offers fresh bread, dairy products, produce, bulk foods, soft drinks, etc. for your shopping convenience. Sharp Shopper operates under all the same state and federal Department of Agriculture regulations as any typical grocery store.
What can you expect when you visit Sharp Shopper Grocery Outlets? You will find great products at low prices without worrying about clipping coupons, carrying bonus cards, or keeping up with the latest gimmicks. You will also find easy-to-read price labels on our products, uncluttered and wide aisles, and efficient, personal checkout. Each of our stores is also handicap accessible with several mobility carts available for use. All of this is why we say: "You can expect great products, low prices, and friendly service at every location!"
Our Mission Statement
Sharp Shopper Grocery Outlet, a retailer of closeout grocery products, endeavors:
• To make quality products available to the community at low prices
• To offer excellent personal customer service
• To provide our customers and employees with a friendly, clean, and safe environment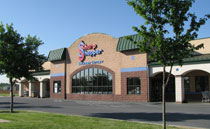 Store Hours -
All Retail Locations
Monday through Saturday:
8:00 a.m. to 8:00 p.m.

Sunday: Closed so that our employees can have a day to rest and worship with their families.

Holidays: We are open on Memorial Day, Fourth of July, Labor Day, Christmas Eve, and New Year's Eve from 8 a.m.
to 4 p.m.

We are closed New Year's Day, Thanksgiving, and Christmas.
Locations
Sharp Shopper Grocery Outlets are located in Pennsylvania and Virginia. The Distribution Warehouse & Corporate Offices are located in Ephrata, PA. For more information concerning each of our locations, please use our "Locations" menu above.

Find us on Facebook
Gift Cards Available
Gift Cards can be purchased at any Sharp Shopper store by calling or stopping by in person.
Customer Comments
Would you like to e-mail comments or suggestions to us? Click here for our Customer Comments page.