We feature closeouts from the grocery industry that will

SAVE YOU MONEY!!!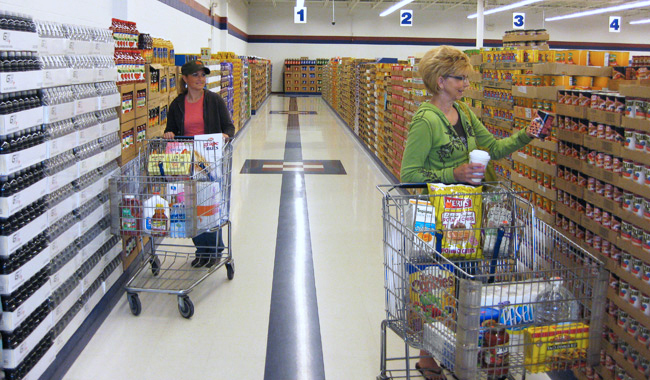 New items arriving daily and all items are 100% satisfaction guaranteed

We sell Canned Soups, Fruits & Vegetables, Beverages (juices, sodas, etc.), Cereals, Pastas & Bread, Snacks & Candy, Cleaning, Household & Paper Supplies, Pet Food & Accessories, Dairy, Freezer & Produce items, Bulk Foods, AND MUCH MORE!


With new closeout grocery products arriving daily, this is a just a
sampling of what you might find at a Sharp Shopper Grocery Outlet.
Our discount grocery outlets feature closeouts from the grocery industry. Closeouts become available because of overproduction, packaging changes, seasonal items, warehouse damage, or short date codes (click here for our Product Dating page).
Our Inventories constantly change because of the changing availability of products. Customers say this adds a "treasure hunt" dimension to shopping at Sharp Shopper. In addition to closeouts, we offer fresh bread, dairy products, produce, bulk foods, soft drinks, etc. for your shopping convenience.

Sharp Shopper operates under all the same state and federal Department of Agriculture regulations as any typical grocery store.
Thank you for your interest in Sharp Shopper. We look forward to serving you and we know that you will be pleased with our quality products, discount grocery prices, and excellent customer service! Read what others are saying about us on our Customer Comments page.

Find us on Facebook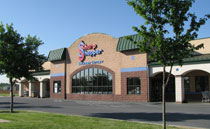 Store Hours -
All Retail Locations
Monday through Saturday:
8:00 a.m. to 8:00 p.m.

Sunday: Closed so that our employees can have a day to rest and worship with their families.

Holidays: We are open on Memorial Day, Fourth of July, Labor Day, Christmas Eve, and New Year's Eve from 8 a.m.
to 4 p.m.

We are closed New Year's Day, Thanksgiving, and Christmas.
Locations
Sharp Shopper Grocery Outlets are located in Pennsylvania and Virginia. The Distribution Warehouse & Corporate Offices are located in Ephrata, PA. For more information concerning each of our locations, please use our "Locations" menu above.
Gift Cards Available
Gift Cards can be purchased at any Sharp Shopper store by calling or stopping by in person.